You can now order any of the photos on this website (at £2.25 per image) as a digital download. To order a digital copy of any image, please complete the short form below. When we receive your order details, we will send you a link to complete your payment.
Order 20 images or more and we'll apply a 10% discount to your digital download order.
Please follow the steps below…
STEP 1
Complete the form below, telling us which photos you require. The fastest way to do this is to tell us the SKU number of each photo you require. The SKU number can be found on the product page for each photo. The screenshot below shows an example of where to find the SKU number for each photo.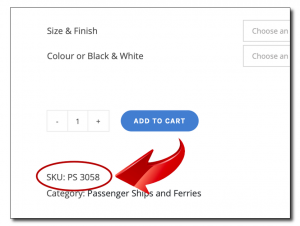 STEP 2
When we receive your order, we'll send you a PayPal payment link. Click the link to complete the payment.
STEP 3
Once we receive your payment, we'll send your digital photos (via WeTransfer) to the email address you supplied on the form (on this page).
IMPORTANT NOTES & COPYRIGHT
Your image download link will expire after 7 days. Please be sure to download your files in good time.
All digital photo purchases entitle you to a personal use licence. This means you can print, save and view the images you have purchased a licence for. You must not share, or give copies of any image to anyone else under any circumstances. If you require a commercial use licence, please contact us via the 'About' page.
PLEASE NOTE THAT THESE PRINTS ARE THE COPYRIGHT OF THE DON SMITH COLLECTION AND MUST NOT BE REPRODUCED, STORED IN A RETRIEVAL SYSTEM, OR TRANSMITTED IN ANY FORM OR BY ANY MEANS ELECTRONIC, MECHANICAL, PHOTOCOPYING/SCANNING, RECORDING OR OTHERWISE, WITHOUT THE WRITTEN PERMISSION © 2020